Visit to remote communities
Today Mahmoud, Faraj and I went by jeep to visit outlying areas. As well as some garden wells, these areas mostly have community wells, they providing water to as many as 10 large families, sadly are depleting due to the sever drought. The only other water the Bedouin have access to, is tanker water provided by the government, it is brine water, which seems to cause kidney problems and make people sick. Thus, those communities really want good well water for drinking, and for growing their own food. Since, that there is no tourist trade in South Sinai, except for Sharm El Sheik, there is very little work for the Bedouin, the new water wells would help them to return to their traditional ways, growing fruit, vegetables, and Bedouin tobacco.
Today we went to look at one well that has been funded by the Makhad Trust which provides water to part of the community in Wadi Tarfa. The well is some distance from the houses and is piped in via a hose that is 2000m long. While we were there, we were asked to look at a nearby well to fund the restoration of too and the hose is nearly 3000m long. These wells bring good water but there is not enough. This is coupled with the problem of foxes and hyenas' biting into the hoses to get water, so they constantly have leaks.
The photo is of Ibrahim whose well we saw today. He has completed the work and is so happy to be able to grow lots of trees. His garden is his only source of income.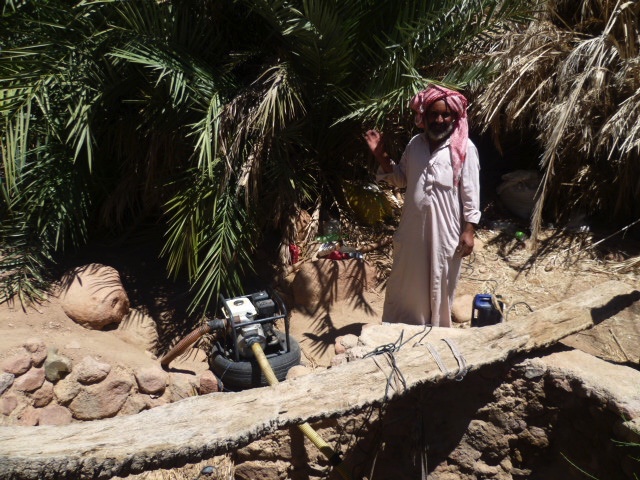 On another occasion we went up area called Wadi Esbia to visit two villages there. The Bedouin there used to work as camel men taking tourists up Mount Sinai but now there are no tourists and no work. The women keep goats and chickens for food and for sale. The village has grown from 5 families in the 80's to 25 now and each family has as many as 8 or 9 children. Life is hard with no work, and little income or water. Many of the children have been born with handicaps and are special needs. At least we can ensure that they have a good supply of water and encourage them to grow their own food. In addition, the money donated for the work to restore their wells goes into the local community and will provide them some additional income.
Although life is hard for these people, they smile often and are proud. They love their children and the children look happy, there is a real sense of community and of living together to help each other.