The July trip, and Helen's first wells trip in role, went very well. The weather was very hot, as one might expect in July, but it was rather too hot for the Bedouin who sought shade at every opportunity. The first fruits were in abundance and we feasted on mulberries and figs straight from the trees. I am not sure whether most of the Bedouin actually noticed that 'Susie' had changed. There was still a blond European woman bumping around the desert with Mahmoud and Faraj. Mahmoud often had trouble remembering he was with Helen and kept calling me Susie.
We paid out all the money due to well owners, visiting all but one well (the owner was not available), added more to the waiting list and also visited Farhana in the library and initiated the Beekeeping project with Mousa.
One site visit we made was to a small community beyond Tarfa on the Wadi Ferian road. Salhe was the eldest woman of the village and obviously held in high regard. She still takes her goats out and sleeps in her tent most nights in the mountains like traditional Bedouin.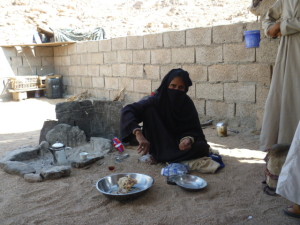 When she is back in her village, her home is just an areesha with one wall and yet she seems reasonably content, except for the lack of water. Her well is the only one for her community and it is dry. The council water trucks often forget, sometimes for as long as a month, to bring the brackish water that the Bedouin will only drink if there is nothing else. We hope to help Salhe and her village soon. There were other similar stories of Bedouin just about managing without a local source of water but times are definitely hard for them.
We met another man in his early twenties, named Hosnee Faraj Fatir, whose father had died when he was just a small child. Hosnee works as a builder but in his spare time he has been building a wonderful house for his family for over 6 years now. It is just nearing completion and will be very well appointed if his ability to plaster walls is anything to go by. Not only has he been building the house, he has also dug a 2m well through granite just nearby which he hopes will bring water for the local community. It is one of the wells on our sponsorship list. He is a very inspiring young man.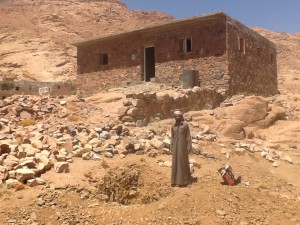 On this trip 6 orchard wells and 5 community wells were completed, with another 3 orchard wells and 5 community wells added to the waiting lists. The waiting lists grow ever longer with nearly 300 wells waiting for sponsorship.
Mahmoud and I visited the library and gave them a recycled laptop from ITSA (IT Schools Africa). It was warmly accepted as their current computer was on loan from May (an Egyptian resident in St Katherine's) and she needed it back a few days after the laptop arrived. Farhana has been making an inventory of all the books and so far has catalogued 660. This is perhaps a quarter of all books in the library at present though we have plans to increase this further. Farhana would like to take children out on trips, as most have never been outside St Katherine's. She would like to organise trips to Ras Mohamed National Park to see the coral reefs, to Nuweiba to the beach, to the monastery, and even to Wadi El Arbeen. These trips would need funding and it may be that one of our supporters on Facebook would be willing to help. Just £100 would pay for a microbus, lunches and the 5LE entry ticket for 12 children and 2 adults to go to Ras Mohamed.
Farhana would also like to start after school education classes with a teacher as she says school education is not very good. A teacher for 2 hours twice a week could be possible for around £40 a month. In addition she would like to introduce basic literacy skills for young women.
During the trip, we were also able to initiate the Beekeeping project by giving Mousa Ahmed the startup funds necessary. He has chosen 6 Bedouin who are interested in learning beekeeping, have gardens with water and a little experience of bees.