This visit to Sinai was the fourth trip for Helen since taking over from Susie last year.
Where else to start but with – The Weather!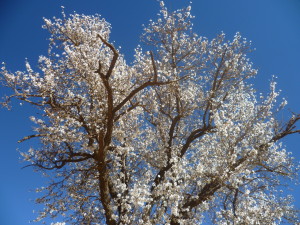 This winter there has been a great deal of rain in the desert east and south of St Katherine and so there were lots of large green bushes and leafy acacia trees plus some delicate flowers on road-side weeds – all looking very alive and well. Some Bedouin from the East coast had moved into these areas for grazing for their camels and goats, living the traditional lifestyle of their ancestors with goat's hair tents. St Katherine's has been less fortunate with precipitation as many wadis have only had a little rain and a bit of snow. They need more rain to fill up their wells and the dams.
Security
   A change from the last trip was to see nearly all the checkpoints manned by police rather than the army. As a visitor, I have to say it is much less alarming to see police than the army though the police were still well armed. However the situation is now back to the same old scams of extortion and bribery by the police on the Bedouin. The police like to make life difficult for people bu/t a financial sweetener will remove the hassles so Salah pays to drive through the checkpoints without trouble. The police do look like menacing thugs, better suited to inter-city crime gangs than security of the public. It seems that one either has the army with menacing hardware or the police with menacing demeanors. Not much of a choice!
   The police now employ a few Bedouin to help them with security in the areas far from roads. This has at least created some much-needed jobs.
   The almond trees are in blossom and it is a lovely delicate pink version of pear blossom. A cluster of almond trees (or looos as the Bedouin say) look very beautiful.
Wells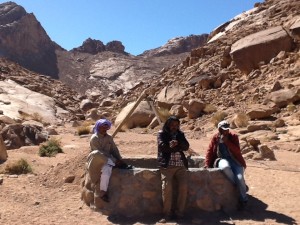 On the first day of inspecting wells we went up into the mountains. Our furthest well to see was a long way down Farsh Roumana. The round trip was an estimated 27 km, with a couple of steep tracks in several places and some walking along scree/sand in the bottoms of the wadis – good for tightening inner thigh muscles. Mahmoud and I started up the mountain at 7 am and got to the beginning of Wadi Gibal at 9. It took us another couple of hours to get to Farsh Roumana and our first and the furthest garden.
   We visited 4 garden well projects in all and looked at a couple of other gardens. There were very few people up in the mountains as it is still quite cold. However it is time for tree planting and moving trees so there should be people up there very soon. We saw lots more almond trees in full blossom, the blossom shows just how many there are and most gardens have several. This is because they are a good cash crop, store well and can be sold throughout the year.
   The second day of well inspections was spent visiting Wadi Shaab and the Blue Mountains.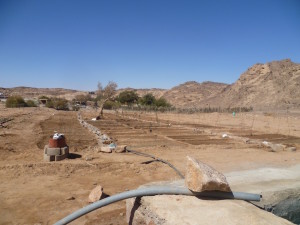 The third day we went to Wadi Tarfa and Wadi Gharba. In Wadi Tarfa we visited a well we had started in July but which had been flooded in the early October rains after Omar had dug out 10 m of it. He was clearly rather fed up when we made our visit in October but we gave him his second payment to carry on digging. When we came back in November he had decided to start digging about 3 m further away, partly because the sides of the old well would have been unstable due to being washed in. This time we arrived to find that they had dug down 16 m in the new spot and had found water! They were very pleased with themselves. They still have a lot to do as the well needs flood protection next, and then they can dig it out some more and then it must be lined with stones. The well owner and his community are really behind this well and working very hard. It will be expensive for them to complete.
   Finally we drove back to wadi Tarfa to see the completion of Eid Imbabi's well. Not only had he finished but also he had built a large birka and planted over 200 fruit and nut trees. He had turned a scruffy bare patch of desert into a new plant nursery. In a year's time it will be blooming and established. The photograph shows the fledgling trees and a new irrigation system. This is an excellent result for this project.
   We visited a well in the Blue Mountains where they had built the flood protection and nearly dug it out. We were invited back a few days later to see the well with water in it.  Mousa, was organizing the work on the well on behalf of his wife who owns it and was so pleased to have water in this very dry area that he had arranged a celebratory feast for his workers – and we were invited.
   We arrived to find that he had slaughtered one of his goats, which had been cooked and was offered to all the workers and to us with saffron rice. The goat's head was in pride of place, and appreciation while we ate. It was very tasty!
   There are still lots of Bedouin coming forward to put their names on our lists, and from greater distances.  One man drove over 100km to come to Fox Camp to see me about his well, but it was a rather specialized request for help with his very deep pump and I didn't feel this fitted with our project.  It was very hard to turn him down.
Well Numbers
   During this visit we started 10 new wells, (5 garden wells and 5 community wells).  We found 4 wells completed though there are 22 ongoing and 320 wells waiting for our help.  Altogether we have completed 283 wells now.
The Rose Geranium Project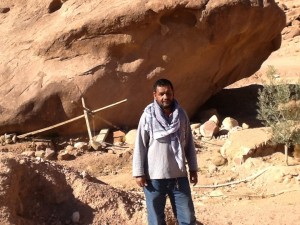 Mahmoud and I visited his brother Mohamed to look at the Rose Geranium plants he has in his garden with a view to growing them for their essential oils. It is not a good time of year to assess them, as there are no flowers and the essential oils are not really very strong either. However we discovered that his well had been flooded and he had no water. He has a large and beautiful garden with lots of almond, figs, olive, pear, apple and other trees. At the moment he gets a bit of water from his neighbour but it is not enough.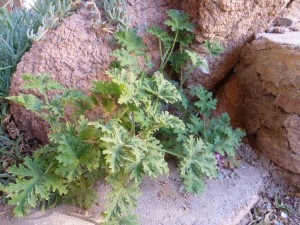 So we did a site visit and put him on the list waiting for sponsors. Deciding what to do about this well was difficult because we don't want to be accused of nepotism but I thought that even if he wasn't Mahmoud's brother I would probably put him on the list. He has put 10 years of hard work into creating a productive garden and it could all be lost. In addition he has no spare funds of his own because his son is nearly blind and is having expensive cornea transplants at a hospital in Cairo.
Flying Doctors
   On Friday, a team of doctors, dentists and medical health practitioners made Fox Camp their accommodation base for their work holding clinics in outlying towns and villages.  About 15 Egyptians had come with an independent medical charity, which offers medical care and medicines for free to impoverished people. Medical help here is not free and many bedouin cannot afford the care they need, so this team is very much needed. It was all arranged by Faraj's brother, with some help from Faraj, hence the stay in Fox Camp.
   The team was very boisterous and noisy with lots of laughing so they obviously enjoy working together. I had a very enjoyable evening talking with 4 of the team, with conversations ranging from should UK leave the EU, to the best places to visit in London, to the health care needs of the Bedouin.
   On Sunday – the doctors last day, they returned to Cairo. One of the doctors is a gynecologist whose specialist area is sexual trauma in conflict areas – she is off to Afghanistan for a few weeks soon, quite an inspiring lady. She is very interested in the idea of health education and basic food hygiene for the Bedouin and would be happy to help. She also talked about one common problem for most of the Bedouin, which is Fluorine toxicity. The water here is very high in natural fluoride so most people's teeth are very brown. However it seems it is also affecting fertility rates. There is some interesting research to be done here, including looking into test kits to establish fluorine levels and filters to reduce them.
   I hope we get to see the team again. Some of them live in Alexandria and know Nora's mother's restaurant – it is one of their favourite places to eat! They said they would get in contact with her so the networking continues.
The Library
   All is going well here. There are 15 to 20 children visiting every day so 300 a month and not the same children each time.  Some women come too or ask their children to get books for them to read at home.
The Beekeeping Project
   We found Mousa rather busy this trip so did not get to see him in his garden but did meet with him in Fox Camp just after he had collected the bees from Cairo.  He has bought swarms for each hive, so about 60 in all. The course seems to be going well and Mousa is happy to run the course again starting in September.  Meanwhile, one of his trainees has come forward to offer to run training course in the mountains, in Wadi Buleia, where his garden is.  This would be an ideal way to expand the number of beekeepers into the less easily accessible areas.
The Museum
   There has been no change since my visit in November, though the building looked complete. I will have a conversation with Faraj about it on my next visit.
Tourism
   After this I went to visit the monastery, expecting some peace and quiet in the basilica because there are no tourists. However when I got there I discovered I was quite wrong and there were over 20 coaches there, many of them with Egyptians because it is the weekend but there were other nationalities too and a party of US soldiers, out of uniform but in shorts.
   I thought it would be horribly crowded inside but it wasn't actually. There were several guided tours going on outside which swallowed up lots of people and some of the soldiers declined to wear scarves as toga cover-ups. Anyway I had a nice quiet time.  Apparently the weekends are quite busy but still very few tourists during the week. The government is doing its best to help the tourist industry in all of Egypt keep afloat in these difficult times with various schemes.  One is to encourage Egyptians to visit more of their tourist attractions, and the second is to take people who serve tourists in one area to experience being tourists in another.  So some Bedouin have been on a trip to see the pyramids and some Egyptians from the Nile have been to see St Katherine's.  There are more students coming to St Katherine's too, which is a good thing, although they don't have much money to spend so it doesn't help the local economy much.  They also need to be educated about litter.
Desert Trek
   It has always seemed a shame to go all the way to Sinai and not to have time to explore a bit more, so this time I added a couple of days to my schedule for a trek.  As it was so cold at night, I opted for a trek through the desert, to places I haven't seen before.  Faraj Fox arranged a guide for me and got in touch with Faraj Sabah for a camel to accompany us. Faraj came himself with one of his camels, Reglan.
   I spent three days trekking and three nights in the desert, seeing, more of the fabulous scenery.  Atir and Faraj looked after me very well.  At the end, Salah picked me up from the main road to drive me back to Sharm to fly home.