Rahabat Dam Build October 2017
The story of the latest journey from Rachel Devas, journey initiator.
Rahabat Dam
Although the group was coming from many different places, Scotland, the Lake District, Hertfordshire and more, we all managed to meet up in the Heathrow departure lounge of Egypt Air. All well, and then we spent three hours sitting in the plane on the tarmac. So we arrived at Cairo around midnight with no hope of an on-going flight to Sharm el Sheikh and our hotel rooms at Umbi Diving in Shark's Bay. But all praise for Egypt Air who, after having got our visas, very quickly got us on a bus to Le Passage Hotel where we were allocated rooms – not for very long – as we had to leave again at 2.30am to catch our 4.30 flight to Sharm. I was able to ring our Hotel at midnight from Cairo and explain what was happening and they arranged to meet us with their minibus on our arrival at Sharm the following morning. So although we were all rather tired we weren't grumpy.
The hotel was just perfect and after some sleep and breakfast we all swam amongst the most amazing coral and beautiful fish right there at the end of the wooden jetty. Fredi had his goggles and snorkel which we all borrowed and later he went diving. We slept, then had lunch and much refreshed climbed into Sala's minibus and headed for the mountains.
I looked up and wasn't sure if we were on the usual road and almost immediately saw a
Camel Race
great crowd of Bedouin ahead. Sala laughed as he said that we had taken a small detour as this was the middle day of the three days of the Six Tribe annual camel racing. We all piled out and joined in the cheering and shouting on the rails. A large flat area between two mountains where a bulldozer had made a flattish track in a big circle. Sala said it was a kilometre in circumference but it looked a lot
longer to us, with very jolly small boys waving their sticks on top of the camels and people running onto the track to pull them along faster. It was apparently a five kilometre course and after four circuits the camels were getting tired and quite spaced out except for the leader and
More Camel Racing
two camels who had spent the whole race almost glued together side by side. So there was a dilemma as to which one had come in second and which third. However Fredi had been spotted taking a photo and was called upon to help with a 'photo finish'.
We arrived at Fox camp and had tea and karkaday which was perfect, and then found our rooms etc. and had supper.
The next morning (Monday) we all set off for the mountains, picking up Shaban in Amran Garden and then on up Wadi Tala and through the chimney and on and on. It was quite a long walk but the group were really great and happily surprised at how well they managed with all the scrambling over the big rocks.
We arrived at Hussein's garden in Wadi Buleia off Wadi Gibal, in comfortable time for karkaday before establishing our bed sites in daylight. It is an attractive walled garden below Hussein's complex of stone buildings and on the other side of the track that had brought us past the dam site in Wadi Rahabat. The garden had a tap for washing water
and another in a generous bamboo enclosure with a toilet which one flushed with water
Breakfast at Hussein's
from containers filled from the tap. The food was excellent with Eid in charge and we had good snacks to keep the energy levels up.
We had passed the dam site on our way up and seen Mahmoud and his team busy preparing the ground rock for the base of the dam. So the next day we joined the bedouin team and got building.
The site was particularly good not only for it's situation in the Wadi with a large catchment area of rain water but also because there was a large supply of stone near the dam and the sand and cement mixing was close by with water in an improvised burka just above.
We worked Tuesday, Wednesday, Thursday and Friday morning when we completed the build except for the rendering on the water side, which Sala and Saeid finished off that day and on Saturday. But, we did have time before we left the site to create a dry stone dam 75 metres up the wadi behind the dam. There was a BIG round boulder balanced up the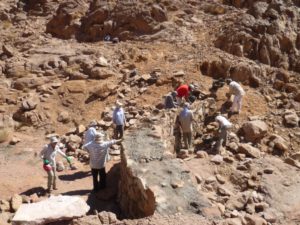 mountain side just asking to be rolled down, so a small team with a crow bar and much strength started it off and down it came to lots of shouting and cheering and stopped exactly where we wanted it. Then all hands to move more large stones from both sides to join the boulder, with Sala and Saeid arranging them in an orderly fashion. Whether they had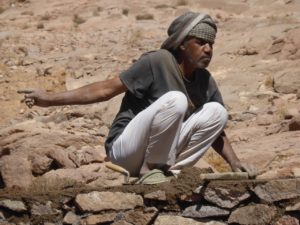 time to build the sides up any higher I don't know but this certainly created a very good buffer for the water before it arrived at the dam. I noticed in the photos of the dam now full that the dry stone dam is below the water level. As usual, Mahmoud had organised everything for the build impeccably. The water supply had been complicated as it came from a long way away and he had had to arrange for a second pump midway to get the water to the site. This time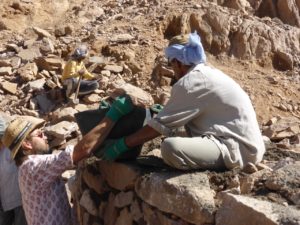 stayed with the team and worked every day with the builders. It was so nice to have him with us.
After lunch (Friday) we walked back down to St Katherine's Village but this time we took the shorter route by Abu Giffa. The path was severely damaged in places and we made a photographic record of this as we went along. Now, since the bad storm two weeks ago, as Helen told us, it has become impassable for camels and donkeys.
As our flights home didn't leave until Sunday we had a whole day in St Katherine's.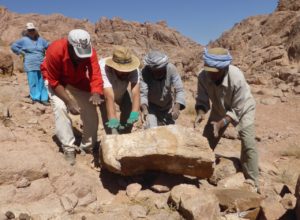 Everyone in the group wanted to come to the early service at St Catherine's Monastery so we all had breakfast in the Refectory and then went to see the museum afterwards. The Bishop was at the service and beckoned me over to him. He was pleased to hear about the dam project and after the service Father Nilus (from Devon) offered to show us around the church and explained some of the tenet of the Greek Orthodox Church. He also took us into the Chapel of the Burning Bush which was a special privilege and later unlocked the gate to the Burning Bush so that we could see it close up with the beautiful mosaic done by Father Gregory, which stands beneath it.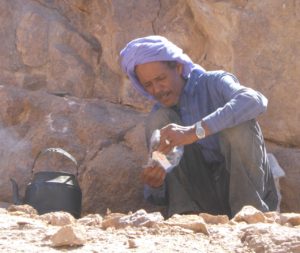 After lunch at Fox Camp, and as Selema was in Cairo, we went to Mohammed El Hashash's house to see his collection of Bedouin Craft – bags of all sizes, cushion covers, belts, small purses and more. Between us all we bought quite a lot and he seemed very pleased with our visit. His prices are a little more than Selema's were last year, the workmanship generally is good but he doesn't have the subtlety of colours and variety of designs of those of Selema.
We had a good last evening together at Fox Camp and then breakfast and off to the airport again. Joe and Fredi were keen to have some more time swimming at Shark's Bay and so organised a taxi and left early in the morning and we collected them with a picnic lunch each on our way to the airport. They were very pleased to have the extra time with the coral and the amazing fish.
Thanks to Fredi Devas and Johnny Devas for the wonderful photos