Wadi Itlah Upper Dam
At the end of March 19, a group from Bristol and the South West came to build a dam just above one built in 2008 called Two Carob Dam.  The dam builders had to deal with the unusual situation of there being too much water in the wadi to begin with and Mahmoud had to set up several hoses to drain the water flowing down the valley.  The water was the result of good heavy rains in February.  Once the dam was finished, the diverting hoses were removed and the plug was filled and the dam filled up straight away.  It became a focus for local children who rarely have the chance to be immersed in water!  We hope this dam will increase the amount of water to the 100 or more gardens down this long valley.
Oda's Dam Extension and Restoration – April 2018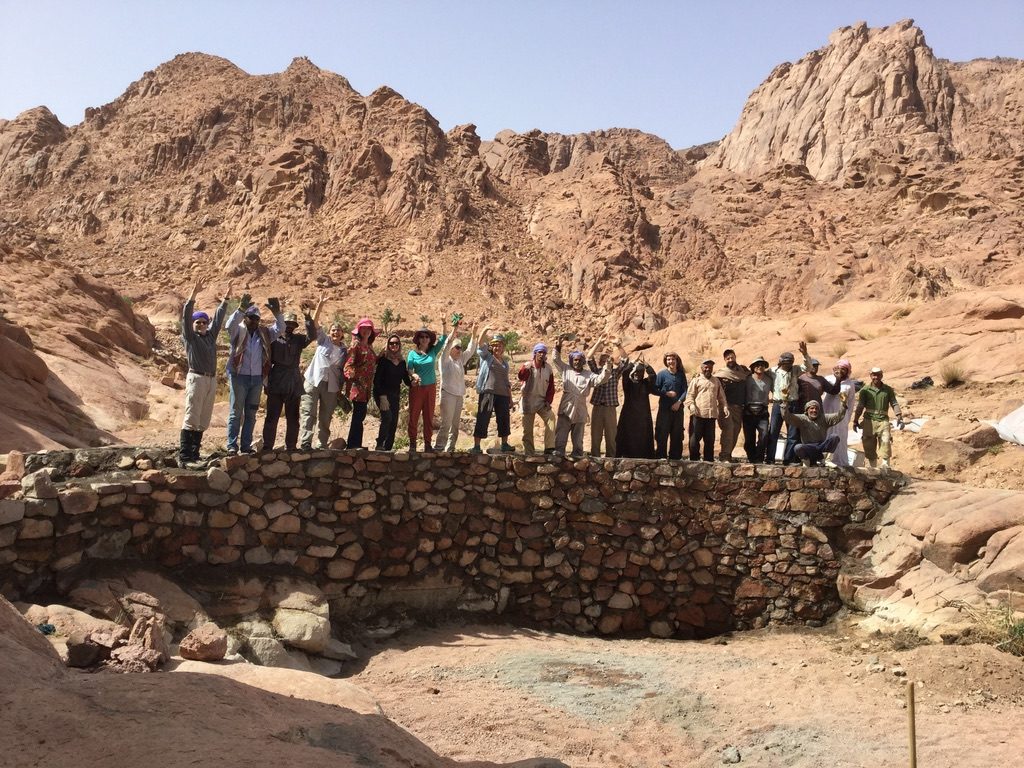 A strong team of American theological academics plus two English people from Stroud, led by Dick and assisted by Fabienne, completed the Trust's 20th dam on 12th April.  The dam was built just above Oda's dam in Wadi Shaq to supplement two previous dams there.  The wadi has a huge water catchment which caused our first dam to silt up.  This one should increase the water catchment of both dams here. Some of the group arrived in St Katherine's early so they could attend the Easter Service at the monastery before heading up to the mountains. After three days the dam was complete so the team, this time led by Helen, walked over the beautiful wadi Akhmah pass to Ramadan's garden for the night.  A flock of camels was then enlisted for the next day, to take most of the party up Mt Sinai, saving them some of the assent but not the  750 steps to the chapel at the top. Everyone made it and we had the summit to ourselves.  The following day we went to visit the monastery in Wadi Tala where St John Climacus reportedly wrote Jacob's Ladder of Divine Assent.  On their last day the American group went for a bespoke tour of the monastery, including the famous library. One of the students on the trip is studying one of their manuscripts for his Masters thesis. Eid provided cooking services along with other Bedouin and Shaban was chief of hospitality, as well as building. Some of the American participants are hoping to bring another party on a future journey and we look forward to seeing them again.