Forthcoming Journeys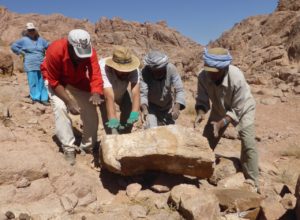 Makhad Journeys has been running one or more Working Journeys annually, for people to come and experience life with the Bedouin and to contribute to well being of everyone by increasing access to water.
After a pause due to the pandemic, Working Journeys resumed in Spring 2023, with two journeys.    The focus of tris is the building of a dam to provide more water for the mountain gardens.  
Our Project Manager, Helen Cranston, lead a journey from 11 to 22 March.  The 12 day trip started with trekking into the high mountains to work alongside the Bedouin, building a dam.  The group then climbed Mt Sinai, and afterwards, spent 4 days on a desert exploration, before heading back to the airport and home.  The expected cost of this trip was £750 (flights not included).
Fortunately, and unfortunately, it rained on the first day of the dam build and there was too much water to build the dam!  However the Bedouin were extremely happy to have the rain, the first good rain for over 2 years.  Before the rain came, all the Bedouin were very concerned about the very low water levels in all the wells because of the prolonged drought.  Following the rain in March, there have been two more good rains in April.  All the dams are topped up and full, conserving water for the hot summer to come.
Rachel and Dick, two of our trustees, will be leading a second journey, from 26 April to 3 May.  This journey will focus on the dam build, like the first one, and will include a visit to St Katherine's monastery and a night to two on the coast at a small Bedouin run beach resort.  The expected cost of this trip is £700 (flights not included).  
Direct flights can be booked from Luton, Gatwick, Bristol and Manchester to Sharm El Sheikh on EasyJet.    
Future Journeys – We hope to run regular journeys during the Autumn and Spring each year, when the weather is not too hot and not too cold. Please do let us know if you are interested.  We can also arrange  bespoke journeys for your family or group of friends.
Supporting the Bedouin
Over 60% of the cost of the trips directly contributes towards sustaining the Bedouin community in various ways, including paying for the many services they provide and supporting the charitable work of the Makhad Trust. Any work you undertake whilst on your journey also contributes directly to the wellbeing of the Bedouin.
You can book these journeys by phone, by email or by post. Email enquiries@makhad.org, or helencranston@makhad.org  for the first journey; and racheldevas@icloud.com for the second journey; or phone us on 01242 544544.